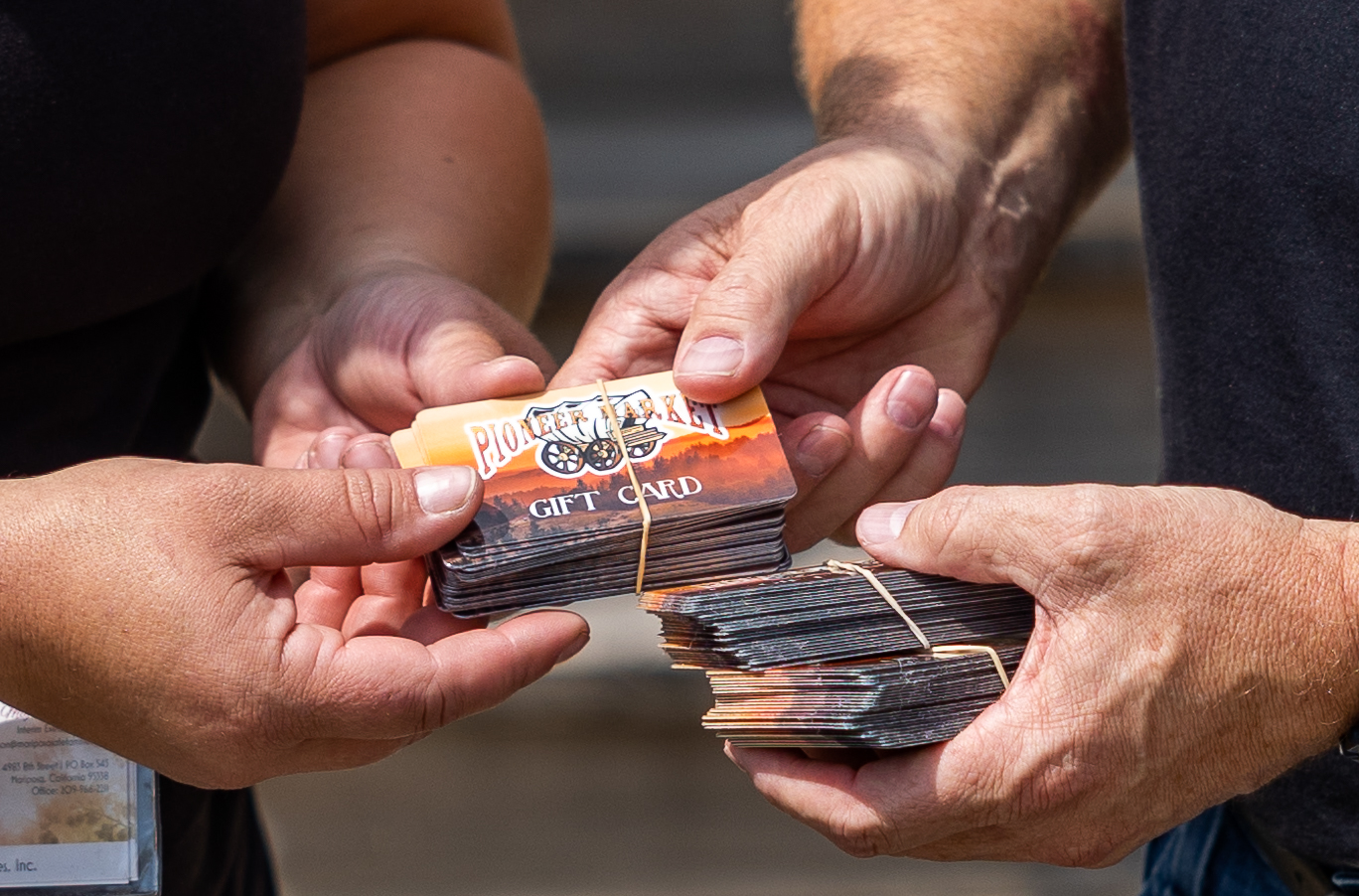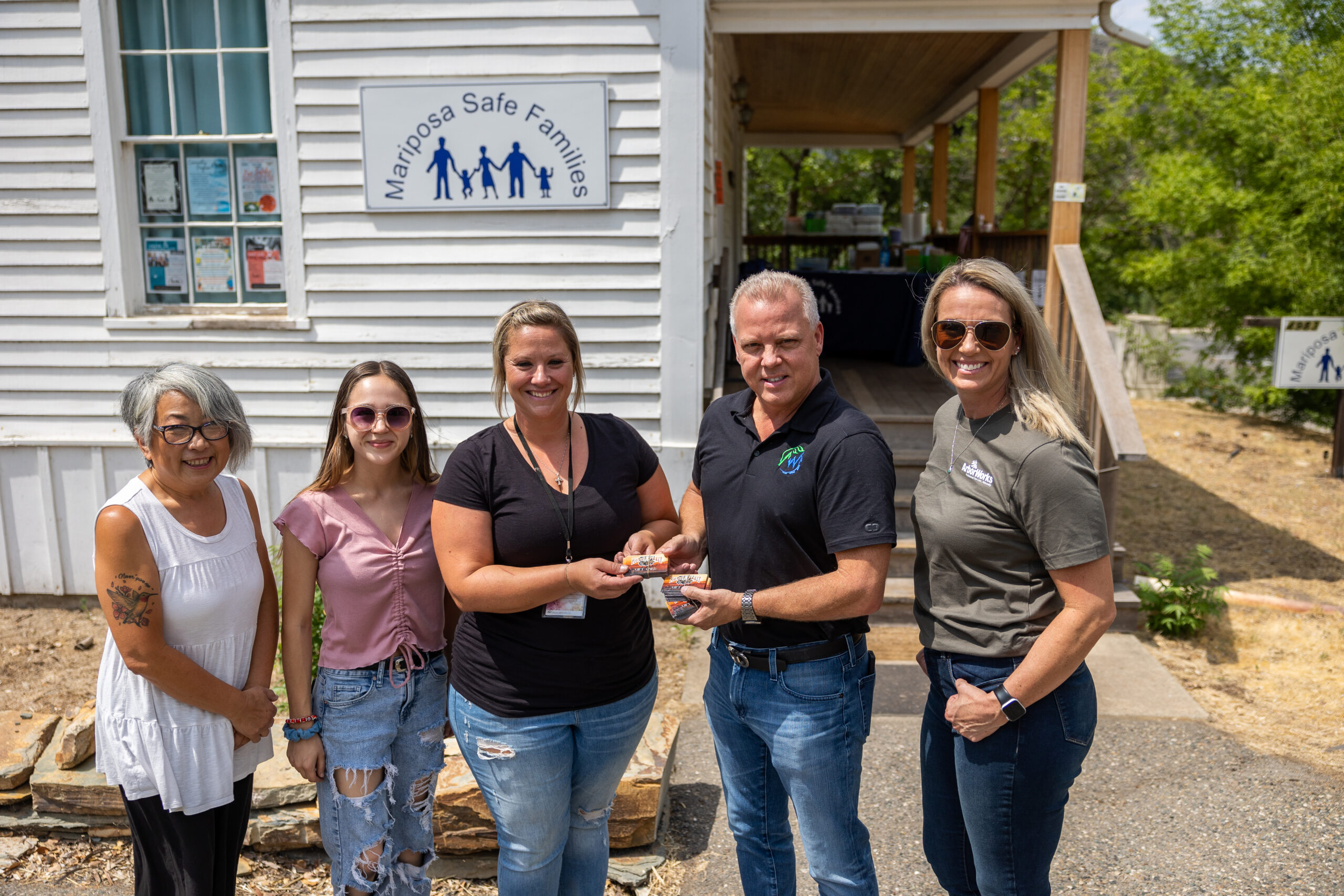 Oakhurst, California, July 29, 2022 — ArborWorks LLC is pleased to announce that it has teamed up with the Mariposa Pioneer Market to donate $20,000 worth of grocery gift cards to help support families hardest hit by the Oak Fire. A total of 200 gift cards valued at $100 each were delivered to the non-profit Mariposa Safe Families, the organization coordinating relief efforts in the county.
The Oak Fire is the largest fire of the season so far and has grown to over 19,000 acres. The fast-moving blaze was so devastating that it prompted Governor Gavin Newsom to declare a state of emergency in Mariposa County.
The idea for the donation came from ArborWorks' human resources director, Layla Meadows. "I knew the staff at ArborWorks wanted to do something to help the people in the community impacted by the Oak Fire. I had an idea and pitched it to CEO Frank Bardonaro. He was immediately on board, so I went to work on a plan. Listening to friends made it clear that the local non-profit organization, Mariposa Safe Families Inc., had been a great source of support. They let us know that the most immediate need was food. So, I contacted Jason Dubberke at Pioneer Market. Jason generously matched our $10,000 donation without hesitation. When I called Megan Atkinson at Mariposa Safe Families about the $20,000 donation, she couldn't believe it and said, 'you're going to make me cry.'"
ArborWorks' CEO Frank Bardonaro said, "We have over 100 employees in and around the Mariposa area. When we met with the sheriff's department and delivered the gift cards, it was heartwarming to see the appreciation that Megan and her team shared with us. They are amazing people providing an amazing service to the community 365 days a year. We are honored to give back to the people and community that make up the ArborWorks family."
If you or your family has been hard hit by the Oak Fire, you are invited to visit the office of Mariposa Safe Families located at 4983 8th St., Mariposa, California (located on 8th St. between Hwy. 49 and Mariposa County High School). Because of the demand, gift cards are limited to one per family.
ABOUT ARBORWORKS LLC
ArborWorks LLC is a professional tree-care firm located in Oakhurst, California. The Company specializes in utility line clearance and vegetation management across the US West Coast, including Washington, Oregon, California, Arizona and Nevada and is currently expanding to Florida. The Company employs over 900 people and prides itself on excellent customer service, innovative solutions to challenging problems and unparalleled safety.  Learn more at www.arborworksinc.com.
ABOUT PIONEER MARKET
Pioneer Market & Pharmacy is the premier, full-service grocery store in Mariposa County and offers a wide selection of groceries, fresh produce, meat, deli items and baked goods. The store is located at 5034 Coakley Circle, Mariposa, California and serves the greater Mariposa County area.
ABOUT MARIPOSA SAFE FAMILIES
Mariposa Safe Families Inc. (MSF) believes that safe and healthy families nurture all children. We pursue this belief by providing programs and support services to our community to strengthen and enhance the family unit through abuse, alcohol, drug and other prevention programs and strategies. MSF was founded in 2003. Learn more at www.mariposasafefamilies.org.
FOR MORE INFORMATION
Ms. Ingeborg Carr
(559) 641 2434
www.arborworksinc.com