There's been a lot of bad news lately in Mariposa County. The largest wildfire of the season grew to over 19,000 acres and threatened the communities of Lush Meadows, Midpines, Jerseydale and Bootjack. The town of Mariposa has kept a keen eye on the smoke to the east, too.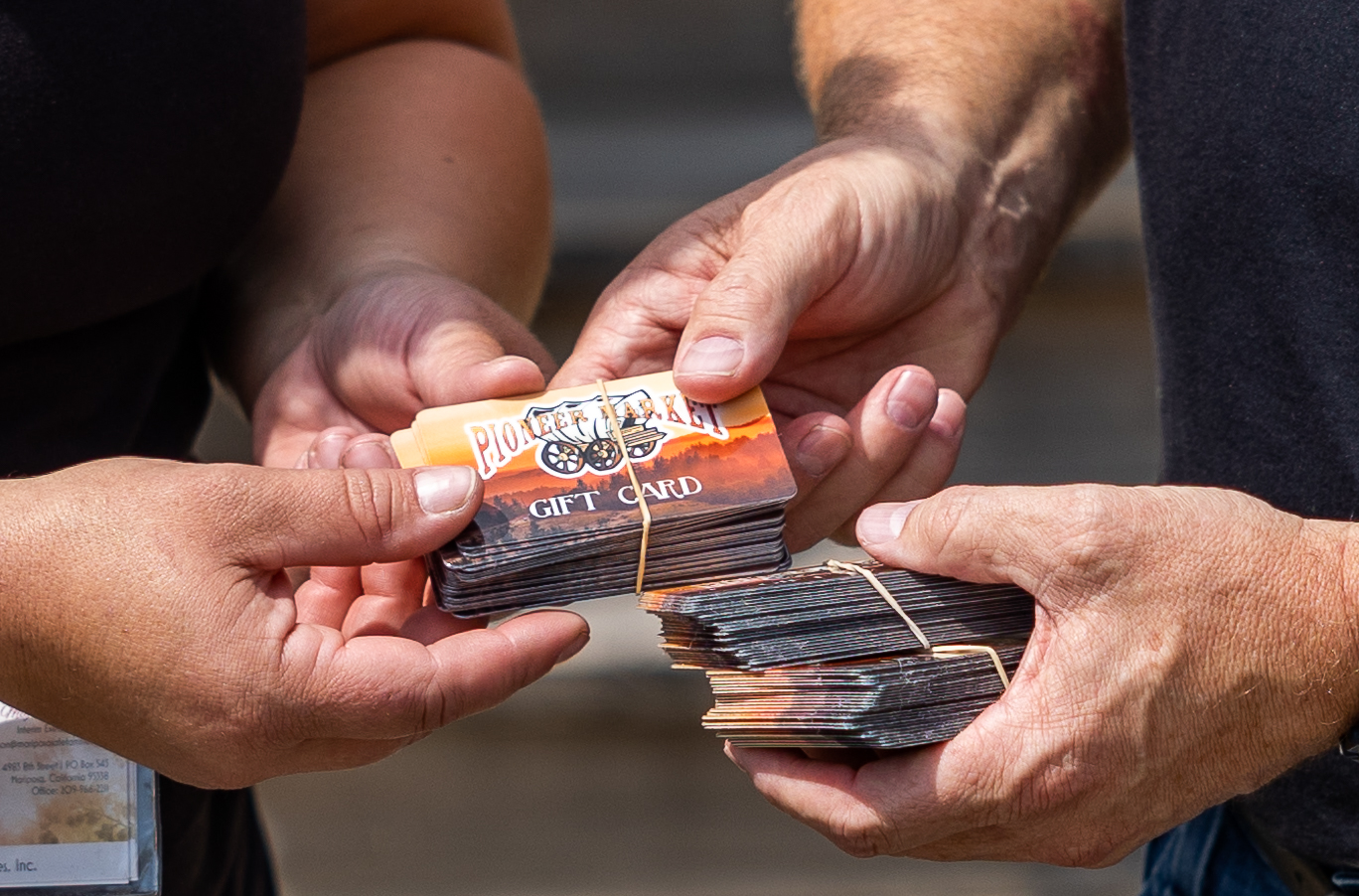 There has been some good news, too. I am so pleased to announce that ArborWorks has teamed up with Mariposa's Pioneer Market to donate $20,000 worth of grocery gift cards to help support families hardest hit by the Oak Fire. A total of 200 gift cards valued at $100 each were delivered to the non-profit Mariposa Safe Families Inc. (MSF) on Thursday, July 28. MSF is a hardworking not-for-profit organization coordinating family relief efforts in the county.
I knew the staff at ArborWorks wanted to do something to help the people in the community impacted by the Oak Fire. Listening to friends made it clear that the local non-profit organization, Mariposa Safe Families Inc., had been a great source of support. They let us know that the most immediate need was food. I had an idea and pitched it to CEO Frank Bardonaro. He was immediately on board and pledged a very generous $10,000. I immediately contacted Jason Dubberke, the owner of Pioneer Market and he generously matched our $10,000 donation without hesitation. When I called Megan Atkinson at Mariposa Safe Families about the $20,000 donation, she couldn't believe it and said, "you're going to make me cry."
We have over 100 employees that live in and around the Mariposa area. When Frank and I met with the Mariposa Safe Families and delivered the gift cards, it was heartwarming to see the appreciation that Megan and her team shared with us. They are amazing people providing an amazing service to the community 365 days a year. We are honored to give back to the people and community that make up the ArborWorks family.
Please share! The main reason for this blog is to ensure the word gets out to those families in need and to let them know how they can get the gift cards. So, if your family has been affected by the Oak Fire, please visit the good people at Mariposa Safe Families located at 4983 8th St., Mariposa, California (located on 8th St. between Hwy. 49 and Mariposa County High School). Or simply give them a call at (209) 966-2211.