Hurricane Ian was one of the most destructive hurricanes in recent memory. Ian likely caused $53 billion to $74 billion in insured losses from Florida to the Carolinas, with a "best estimate" of $67 billion, according to modeling firm RMS.
The storm caused extensive damage to homes and businesses, leaving millions of Floridians without power. But under the leadership of Clint Stephens, our Vice President of Operations, Southeastern Region out of Knoxville, and our Florida Operations Manager, Philip Jennings, who have 15 hurricane response projects between them, we were able to help Florida and make a difference. Clint and Philip coordinated the seasoned disaster-recovery and ISA-certified utility arborist teams on the ground.
Here's a look at our post-storm recovery efforts.
In the wake of a hurricane, there is always an immense amount of work to get things back up and running. Our team was responsible for clearing away downed trees, and limbs and trimming back overgrown vegetation posing a danger to the community so that repairs could be made and power could be restored. We worked long hours under challenging conditions, but we were proud to be able to assist in the hurricane recovery effort.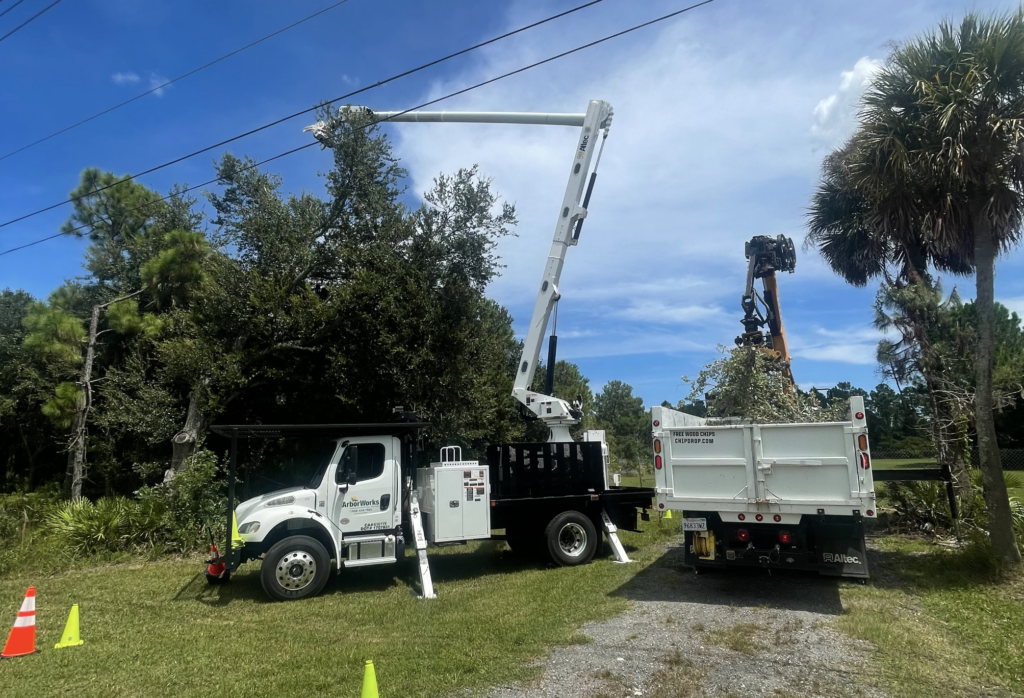 Our pre-storm work centered on St. Lucie, Palm Beach County, Broward County, Okeechobee, and Martin counties. Our post-storm recovery focuses on Manatee, Sarasota, DeSoto, Charlotte, Lee, Collier, Volusia, Brevard, and Indian River counties.
In addition, we worked in areas impacted by 12-foot storm surges which was no easy task, but our team was up for the challenge. We worked in multiple communities in 14 counties, including some of the most severely impacted areas like Port Charlotte, Naples, Fort Myers, and Punta Gorda. We are glad that we could lend a helping hand in restoring more than 25% of Florida's power and making a difference in the lives of those impacted by this devastating hurricane.
Finding lodging during a hurricane is challenging, as many hotels are typically full, lost power, or damaged. However, some crew members went above and beyond by sleeping in their trucks after 16-hour work shifts.
Hurricane Ian was a major storm that caused significant damage across Florida. Our team of vegetation cleanup experts worked around the clock to help restore power and return life back to normal for those affected. We are proud to have played a role in the hurricane recovery effort, and we will continue to assist in any way we can as Florida rebuilds from this devastation. If you need assistance with vegetation cleanup, please don't hesitate to contact our VP of Business Development, Jami McDermott. We're here to help!